Year 2022
Open Innovation
Innovation is key to securing a company's future. It directly correlates to business advancement, contributes to continuous development, and creates sustainability. Beyond just creating new products, the use of innovative methods and technology also maximizes company value and improves operational efficiency.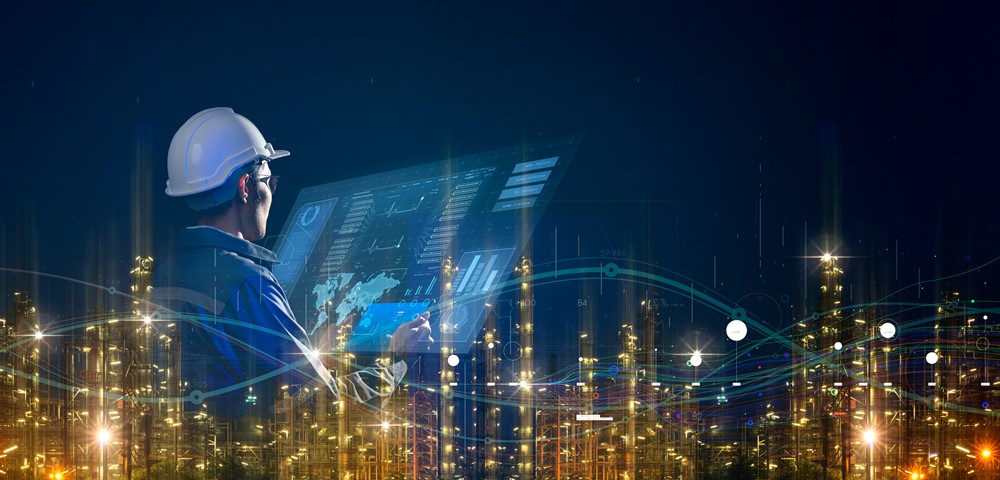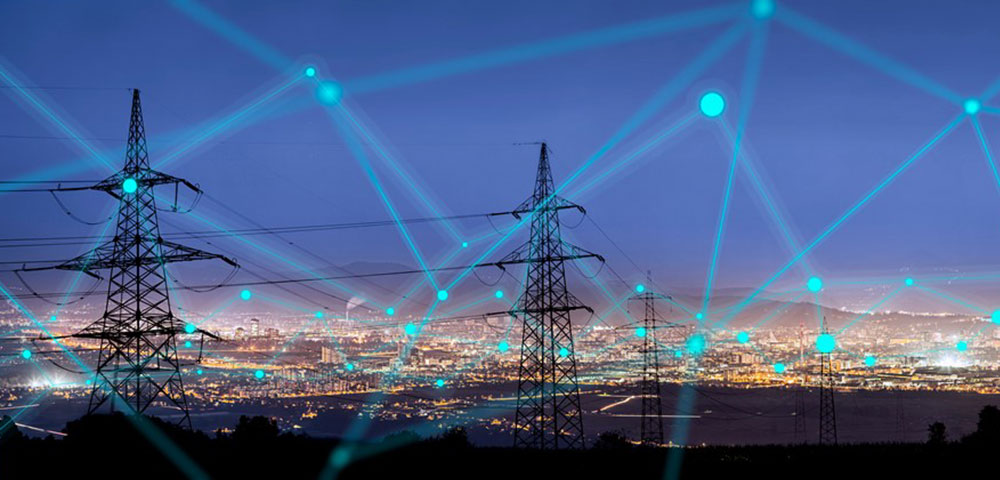 As EGCO Group looks ahead for new business opportunities and areas of growth, we recognize the importance of creating innovations to drive the organization towards sustainability and stay competitive in today's dynamic landscape where advances in technology continue to transform the energy sector. As such, in addition to our collaborative efforts with business partners to create and further expand new innovations, we initiated the "EGCO Group INNERGY: Driving Sustainable Innovations from Within," an open innovation competition to be a platform for inspiration and discover outstanding ideas that generate value for the company.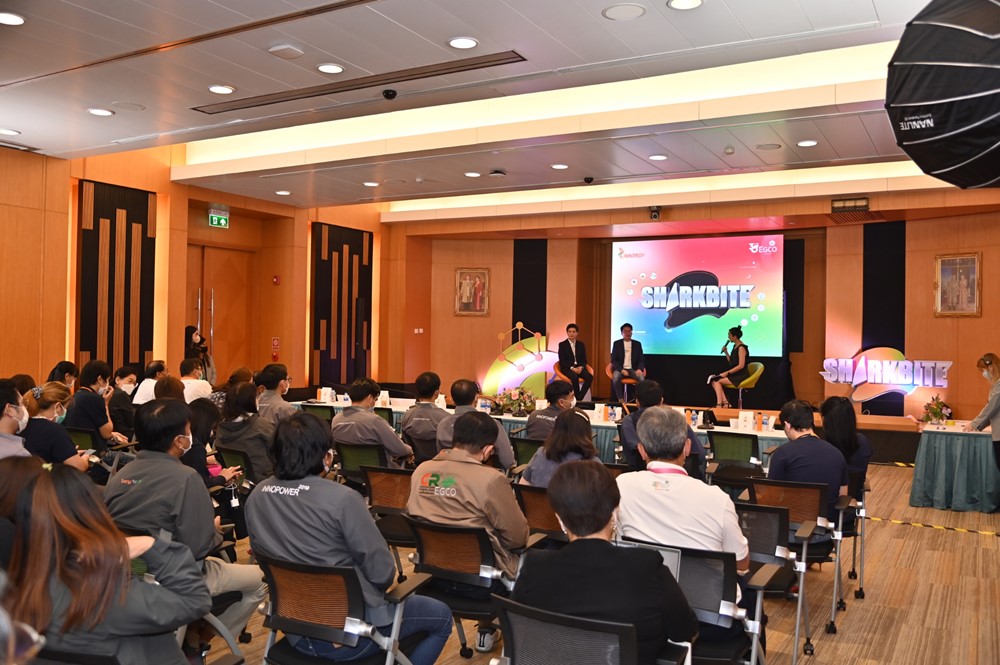 Photo taken during the Open Innovation Project at EGCO Group (1)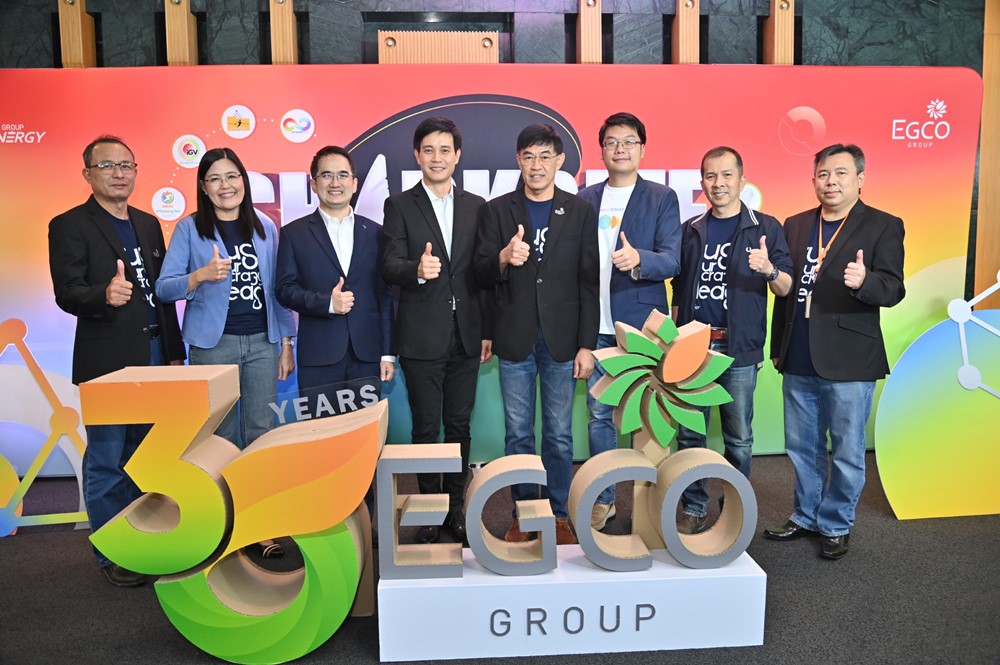 Photo taken during the Open Innovation Project at EGCO Group (2)
Measuring Solar Panel Efficiency through Project Management Information System (PMIS)
A power plant's solar performance and efficiency is typically determined based on an overall system average, assuming all the plant's solar panels are operating at the same level of efficiency. However, it is important to note that rates of degradation, and therefore efficiency levels, may differ across solar panels, making it difficult to pinpoint which and how much a panel has actually degraded.
As a solution, EGCO Group's Power Plant Management Division developed a new method to more accurately measure solar panel efficiency: the solar panels are categorized into either Strings or Inverters, and efficiency is then calculated for each group separately. This method expedites the identification of solar panels with issues and aids in the repairing, cleaning, and testing processes that follow. Each solar panel is also connected to the Project Management Information System (PMIS), which allows for continuous performance monitoring and real-time data analysis.
Currently, SPP 4 Power Plant, which operates under EGCO Group's umbrella, has implemented this new method in measuring solar panel efficiency.
Benefits of the Project
Increased the power plant's solar panel efficiency
Increased solar energy output, resulting in increased revenue for the power plant
Reduced solar panel inspection and maintenance times
Implementation Approach
Categorize solar panels into String or Inverter groups
Connect Inverter display output to the PMIS to aid in monitoring performance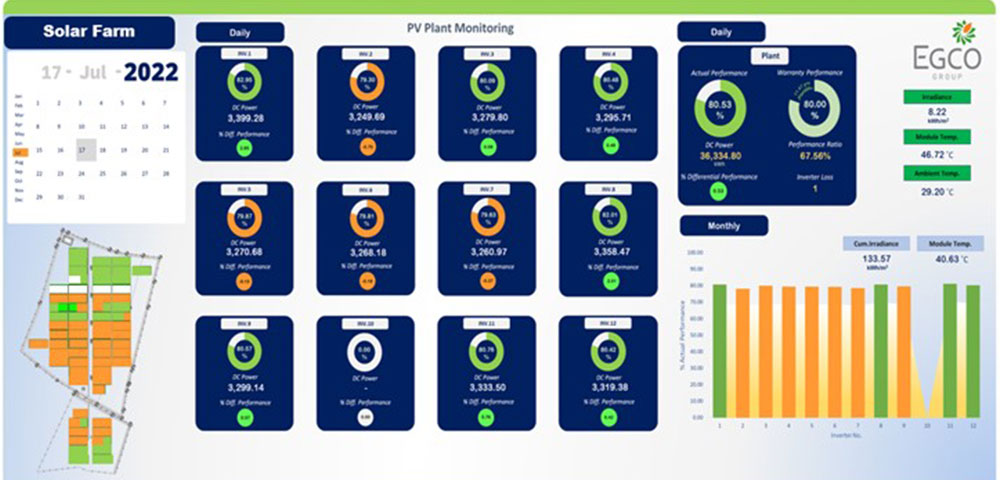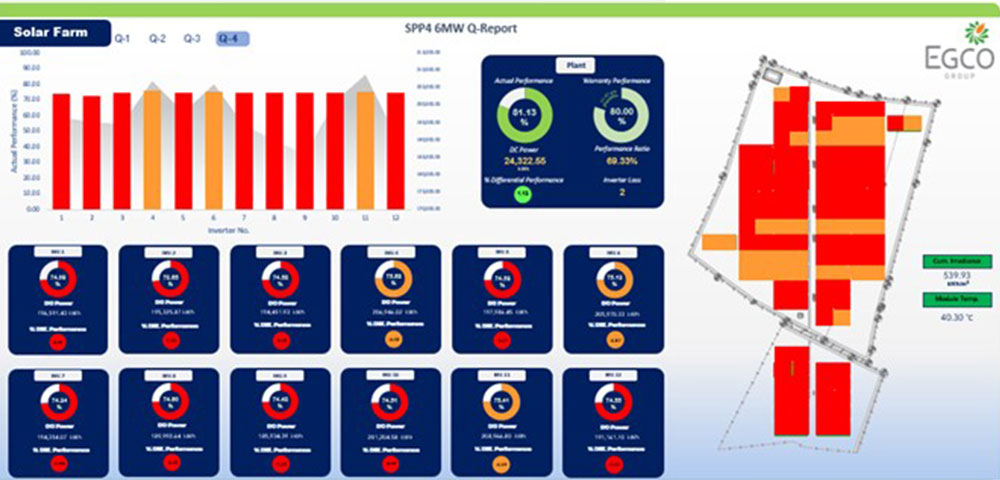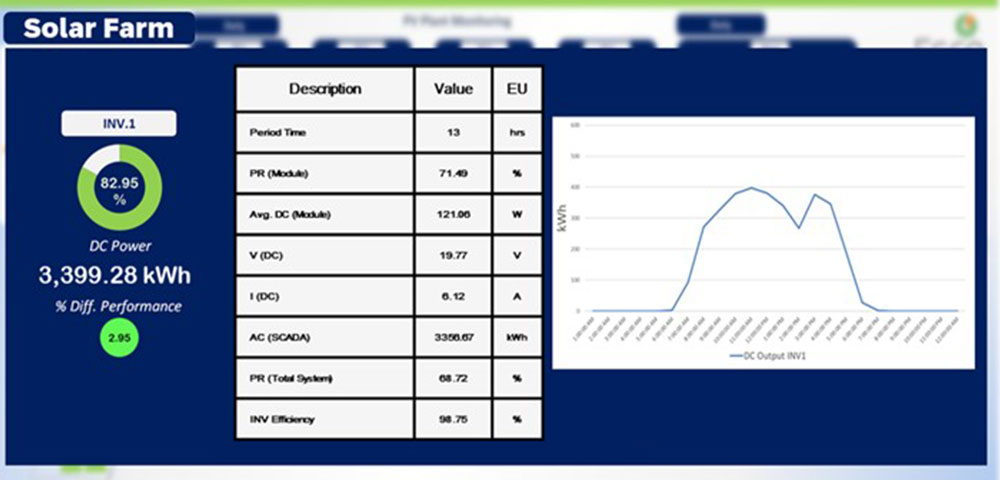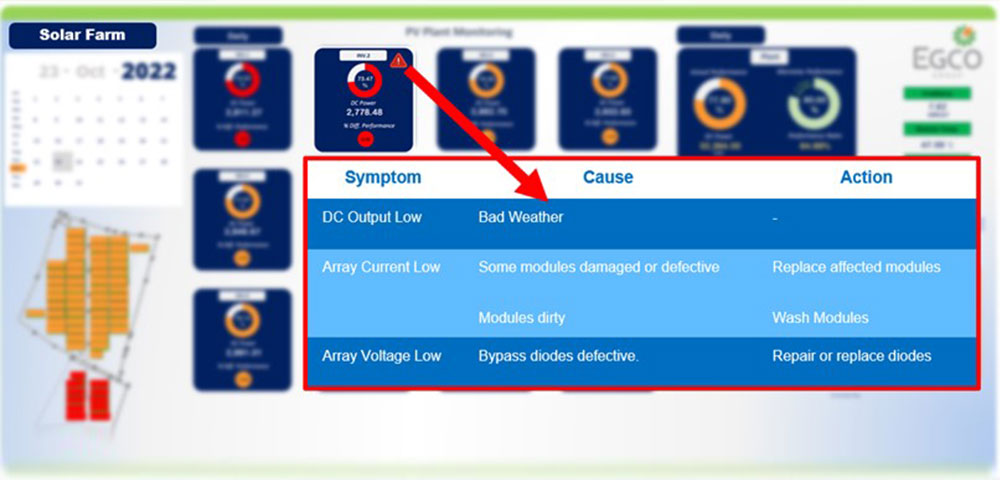 EV Load Demand Management (EV-LDM): A Platform for Managing Electricity Demands from Electric Vehicles
The transition towards a low-carbon society has driven the demand for electric vehicles (EV) in Thailand. The trend is reflected in the National Electric Vehicle Policy Committee's targets for EV adoption, which are set at 440,000 passenger cars and pickup trucks, 650,000 motorcycles, and 33,000 buses and trucks by 2030. Nonetheless, as more people switch to zero-emission mobility, the rapid surge in EV usage that ensued has led to changes in electricity consumption patterns. Increases in demand for electricity needed to charge these vehicles, in particular, can potentially affect grid reliability and increase costs for consumers during peak load periods.
To address this issue, EGCO Group developed the Electric Vehicle Load Demand Management (EV-LDM) platform. Engineered to manage the timing and quantity of electricity delivered to charging EVs, the platform is able to control costs and maintain the reliability of the electric grid system. The following components make up the EV-LDM Platform:
EV-LDM Platform
EV Communication Box
Transformer Communication Box
Smart EV Charger
Benefits of the Project
Improved energy efficiency and grid reliability, especially during peak load periods
Generated revenue from the installation of EV charging stations and EV-LDM platforms
Advanced the technology in energy management between power plants and consumers
Implementation Approach
Install EV charging stations together with EV-LDM to promote cost-effective electricity usage while maintaining grid reliability.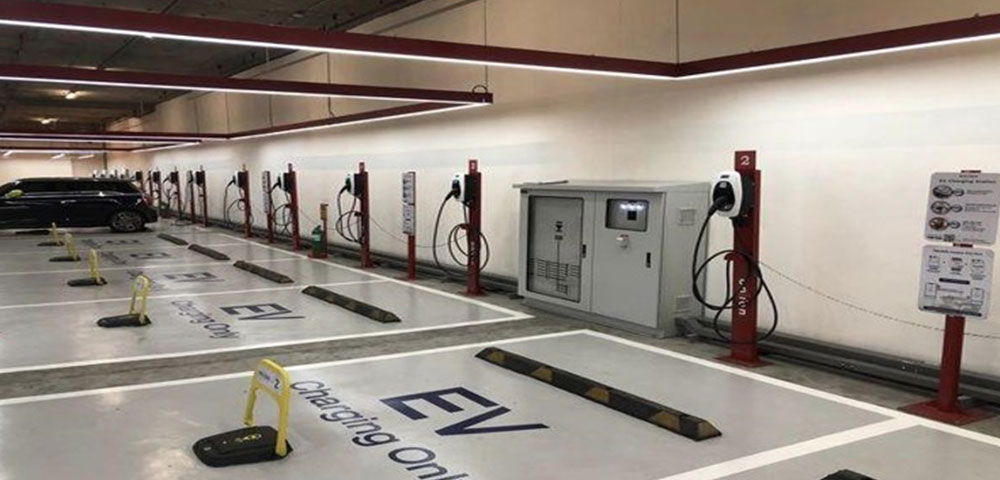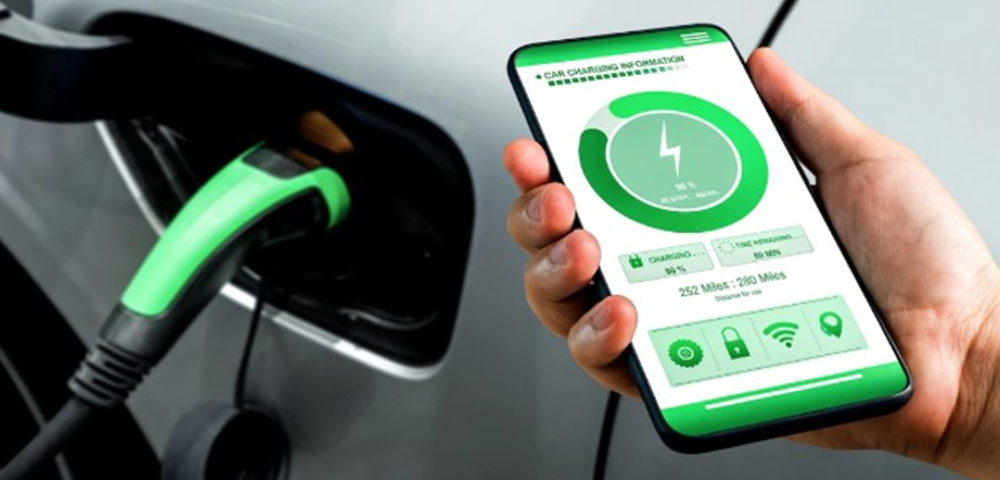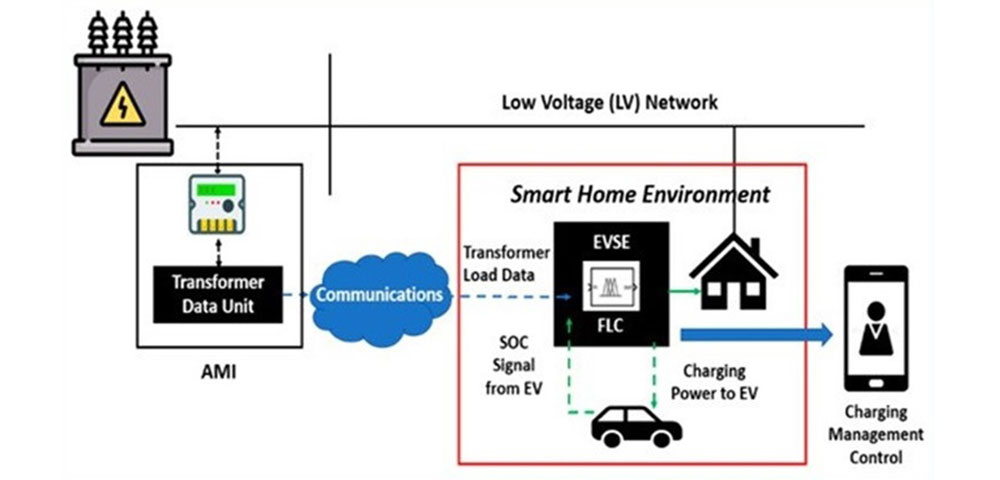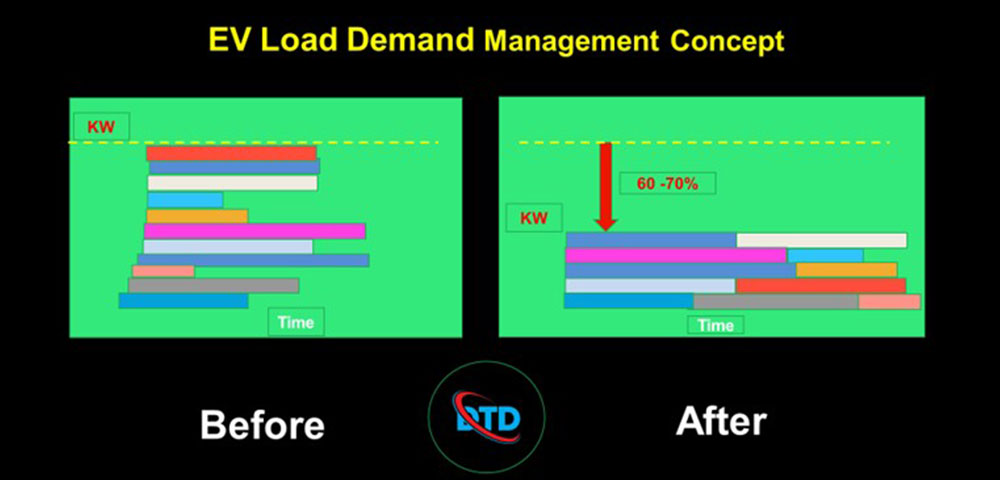 Co-bot Operator: An Artificial Intelligence (AI) Monitoring System
Day-to-day operations and activities within a power plant, whether they are scheduled inspections and maintenance or rare occasions when unusual incidents occur, pose an inherent risk to employees due to possibility of accidents, exposure to hazardous chemicals, or high-pressure steam leakages. In addition, given the time and effort it takes to complete a power plant inspection, a large number of personnel is required to be involved each time. To mitigate such risks and reduce time and manpower spent during normal operations and for certain activities, EGCO Group relies on the use of technology in power plants and industrial factories with higher levels of risk.
Our artificial intelligence technology has functionalities in measuring temperature, pressure, vibrations, and noise levels, as well as thermo-scanning pipes and equipment and subsequently storing the information in a database system. The AI machines can perform data analysis through benchmarking methods and will send an alert, via a monitoring application, to the human operator if the measured value exceeds or falls behind a set threshold. They are also programmed to avoid or stop operations altogether when encountering obstacles.
We plan to develop robot and machine-selling and rental as a business, targeting customers in industries with high-risk working conditions, such as power plants, petrochemicals, and industrial factories. Services including system installation, application development, maintenance, repairs, and other related after-sales support will be provided as part of the business model.
Benefits of the Project
Drove the business development of artificial intelligence technology usage.
Lowered worker risks during machinery inspections when abnormal incidents occur.
Reduced time required for scheduled inspection and maintenance of machinery.
Implementation Approach
Use artificial intelligence technology to work together with human operators in inspecting machines and equipment during operations, enabling measurements of temperature, pressure, vibrations, and noise levels, to be taken as well as thermo-scanning of pipes and equipment and subsequent storage of the information in a database system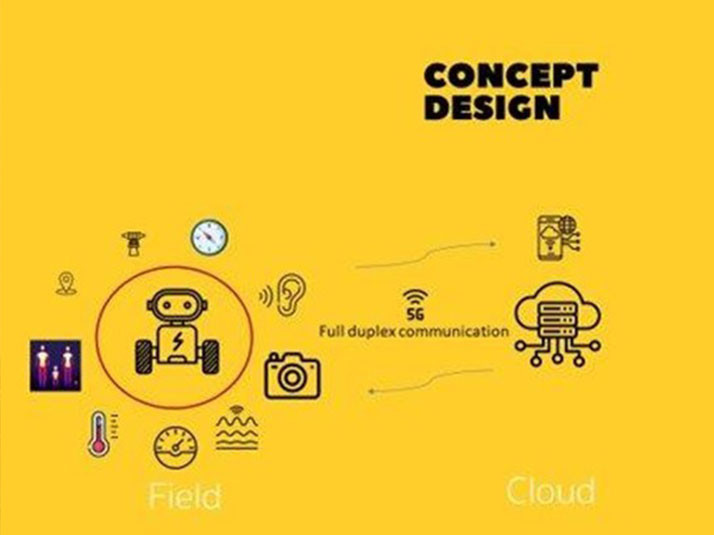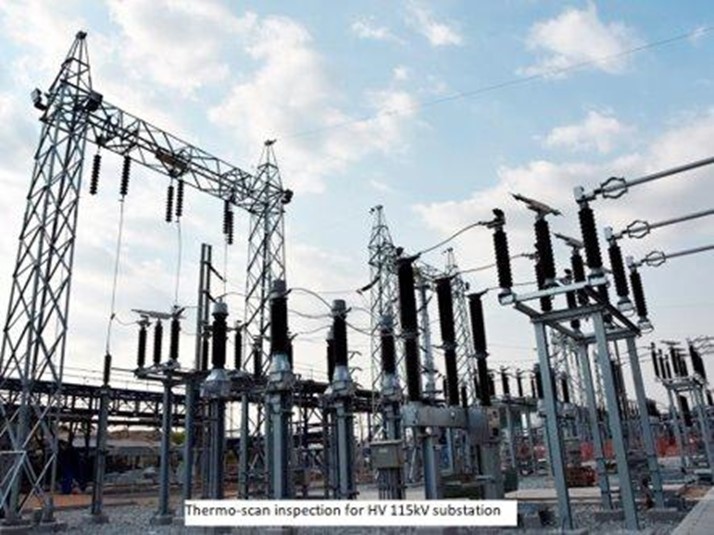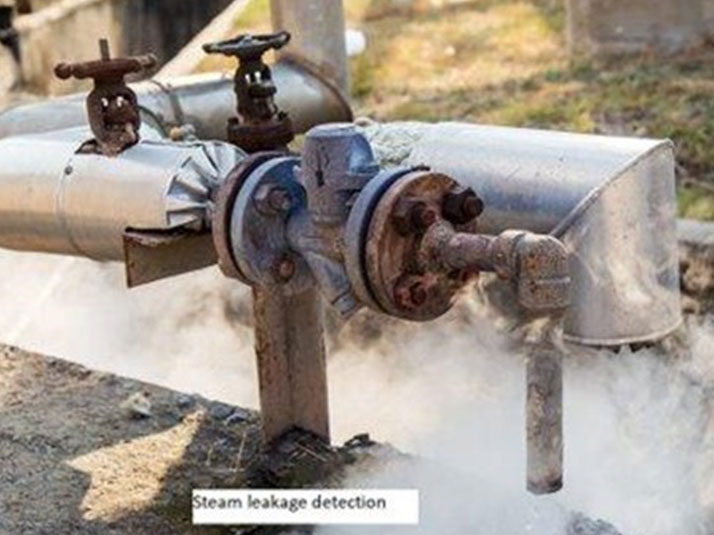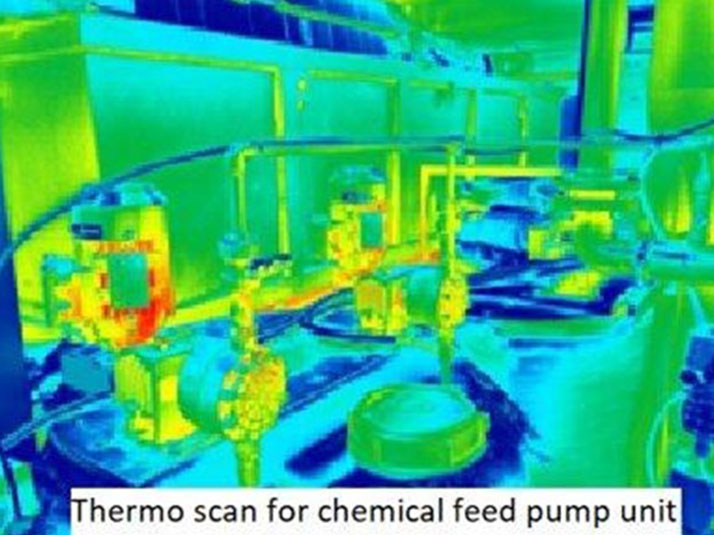 Peer-to-Peer Energy Trading Platform
As the world moves toward a lower-carbon economy, EGCO Group continues to drive business development towards sustainability and align itself with the evolving dynamics of the power industry. We remain committed to our principles of sustainability, as evident in a number of our initiatives that have always supported opportunities in energy innovation and technology that create utilities for the electricity business.
In line with our philosophy, Solarco Power Plant developed the Peer-to-Peer Energy Trading Platform to facilitate the trade of surplus energy between prosumers and consumers through a mobile application, with EGCO Group as the service provider of the electricity trading network.
Aspects of the technology employed in the Peer-to-Peer Energy Trading Platform worth highlighting include:
Blockchain technology is utilized for real-time data storage.
Smart contracts, as predefined by the service platform provider, with a specific pricing mechanism agreed upon by both buyer and seller.
Capabilities in invoicing and expense collection from the energy transaction via the platform.
Benefits of the Project
Drove the development of an emerging business in what will become a decentralized energy center in the future.
Promoted expansion of the clean energy market within the country.
Implementation Approach
Prototype and test the trading of excess or surplus energy between prosumers and consumers.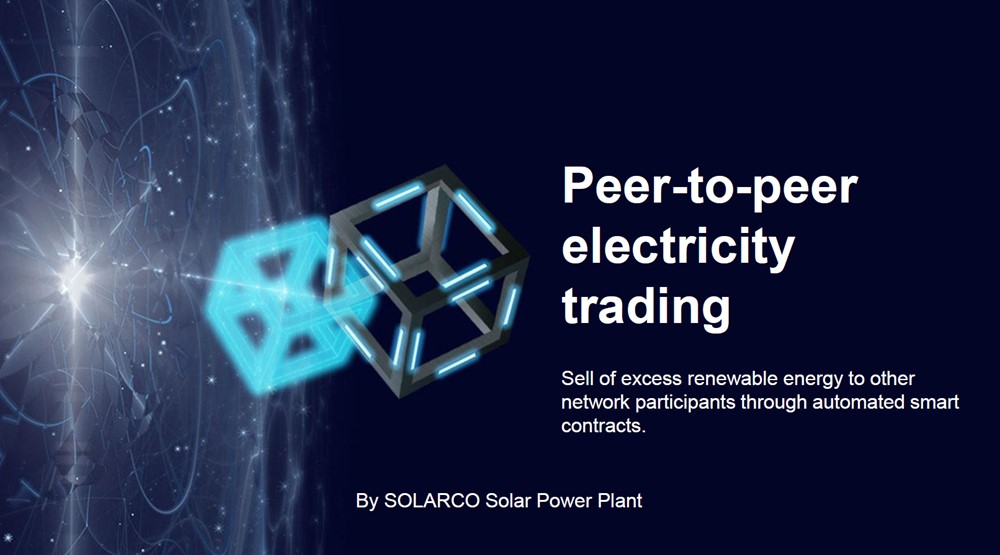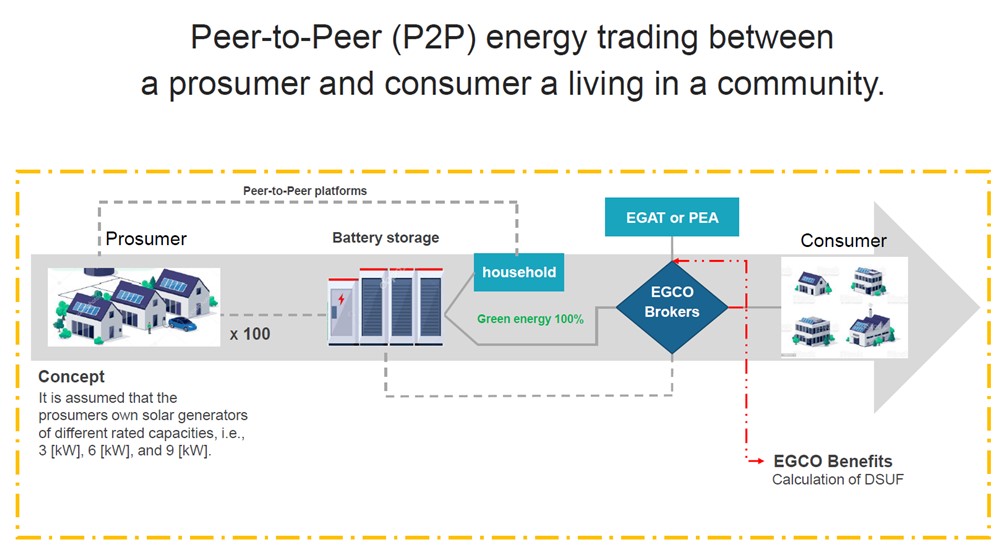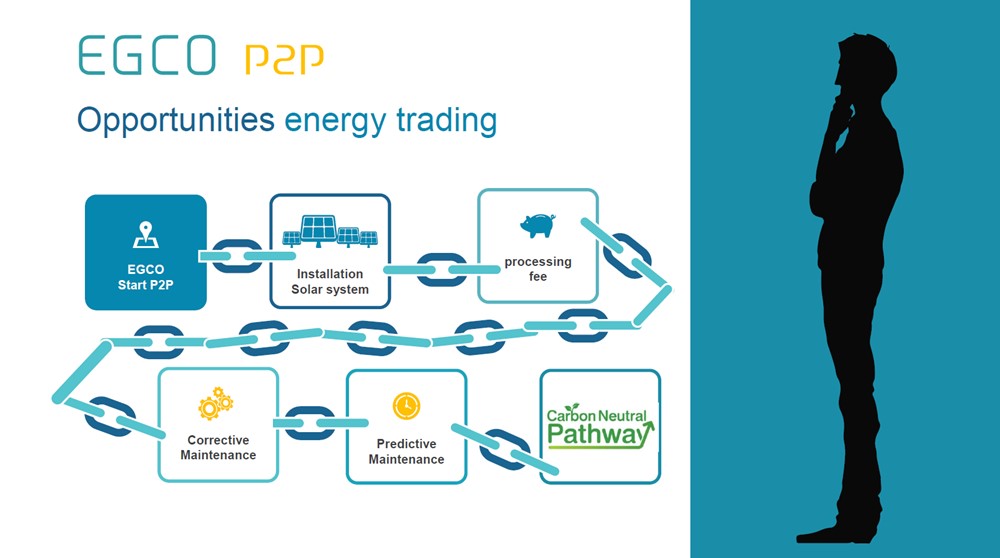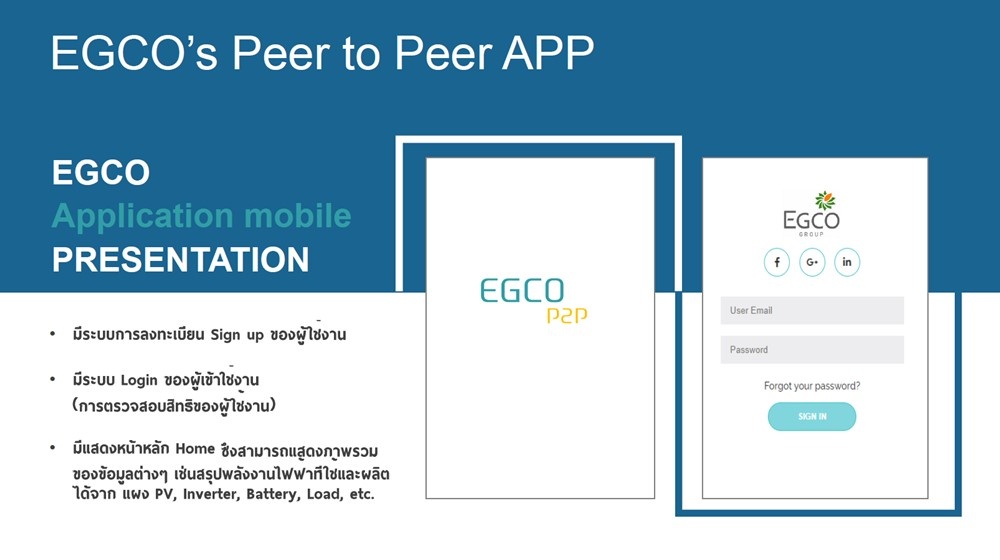 Year 2021
Innovation Management Project
Thermal & Visual Drone Inspection
To reduce risk, time, and cost of abnormality detection in engineering works that usually requires personnel using heat detector to search for the abnormality at each particular location, innovation and new business has emerged to provide detection service using smart drone to measure heat value and record footage, as well as a software to provide real time cloud data shared between drone driver, central room, and mobile phone application. When an engineering abnormality is detected, the drone will send photo and location of such abnormality to relevant parties, and also provide a summary report of the detection.
Business Model and Result: The objective of the drone detection service innovation is to detect abnormalities in engineering works e.g. high voltage transmission line, solar cell panel, power generating wind turbine, and other machines in industrial factories, both in government and private sectors. Market value of the innovation is expected at 1,000 million baht. This drone detection service could provide 10-30 times faster and 5-10 times cost reduction compared to the detection by human using heat detector at a specific location. In addition, this innovation utilizes clean energy due to the fact that the drone uses clean energy driven batteries. In addition, this service could also apply to other inspection works e.g. security, recue, public relations, etc.
EV KLU MINI Bike
To comply with the world's direction, energy conservation interest, and environmental impact reduction, innovation on electric motorcycle is created to open the market that is friendly to the surrounding environment.
Business Model and Result: The electric motorcycle is designed and fabricated using materials found within EGCO Group's power plants. The use of electric motor for the motorcycle shows environmental awareness since it does not generate air pollutants and it is 10 times cost reduction compared to the use of gasoline engine. It has low maintenance cost because it does not require engine oil like gasoline engine. In addition, electric motorcycle can be used together with other alternative energy sources e.g. solar energy, wind energy, and hydro energy. It also creates other business opportunities by selling electric motorcycles that can be adapted as per customers' requirements, by type of usage, or as required by type of customer groups or various industries, for example, used for travel convenience for elderly, and used in film shooting team.
One Stop Service Energy Platform
Since energy sources and technology potentially impacting future energy business are changing, and users could purchase electricity by themselves via peer to peer service, it opens the opportunity for electricity producers desiring to take part in the market, resulting in business platform to provide a one stop energy service through the most comprehensive application.
Business Model and Result: This business platform aims to build the connection between electricity producers, as well as electrical service providers, both minor and major power plants and people, office buildings, or industrial factories. EGCO Group, as an intermediary, collects payments from shops and earns commissions from all transactions. This could reduce the cost/generate income at approximately 30 million baht/year. In addition, there are many benefits from market place and peer to peer energy trading concepts, for example, building more number of prosumers or solar rooftop electricity producers to the system, reducing amount of imported fossil fuel, decreasing greenhouse gases emissions, receiving benefits from carbon credit registration, and complying with EGCO Group's policy to reduce carbon emission by 2050.
Khanom Solar Floating
Raw water reservoir (Ban Klang Reservoir) of Khanom Power plant is located in a remote area (approximately 9 km from the Power Plant) where power shortage could occur that might affect the opening of water gate. If the water gate cannot be opened in time, flooding could occur in the surrounding area and nearby communities. Moreover, during summer, large amount of water could be unproductively lost due to evaporation i.e. approximately 1 cm per day. Utilizing surface area of the reservoir to install solar floating was therefore initiated to generate electricity to feed water gate pump in case of emergency during rainy season and to minimize flooding in local people's land.
Results: Electricity generated from solar floating can be fed to water pump to transfer the water from public canal to power plant's reservoir to produce water for domestic purposes, as well as clean water being used in electricity generating process. Solar floating innovation generates clean energy that helps reducing greenhouse gases when compared with the energy generated using non-renewable energy, which complies with EGCO Group's investment plan. This business could be invested in subsidiaries power plants in other countries and also responds to CO2 reduction project of the company. In addition, Khanom Solar Floating Model has been further explored to build new business i.e. installing solar floating at the reservoirs of external companies. The clients of this project are aquaculture farms, reservoirs in industrial factories as well as agricultural farms.
Internal Optimization: Modify Common Line of Auxiliary Steam
Currently, single shaft combined cycle power plant using standby condenser is required to create vacuum condition in the condenser before start-up, and auxiliary boiler will build auxiliary steam to seal the steam turbine gland to prevent air flowing into steam turbine and condenser, which takes about 3.5-4 hours to finish this process. Common line is therefore installed to replace auxiliary steam by using steam tapped from HRSG cold reheat steam (CRH steam) of the running power plant.
Results: The installation of common line using CRH steam could reduce auxiliary steam generation time using auxiliary boiler, which speed up power plant start-up and electricity distribution time, therefore creates 2.40 million baht to the organization. It reduces the cost of fuel and chemicals used for auxiliary steam generation using auxiliary boiler, equipment maintenance cost, personnel cost of operation and maintenance units, totaling 1.00 million baht. It also reduces the air pollutants emitted to the atmosphere.
KitchenDe
The building of KitchenDe platform through @KitchenDe Line Official Account and KitchenDe application could be an alternative for fast fresh market shopping and increase the opportunity for fresh products distribution. The media between clients e.g. restaurant operators and fresh markets, namely Jae Yai, manages orders and shops for clients. The prominent point of KitchenDe is maintaining quality of orders, selecting quality products, and delivery of products to clients.
Results: This platform could help reducing time and transportation for client's convenience i.e. restaurant operators. Benefits from the platform include: