Stakeholder Engagement Training Program
Stakeholder engagement is a vital key action for EGCO group to provide a mutual understanding between stakeholders regarding the operation of the company. Regular engagement ensures transparency and helps to build confidence in the company's management and strategy. It gives them a voice, potentially offering valuable insights and feedback that could aid in decision-making and risk management. Therefore, it is utmost important for all employees especially the accountable top local managers at operational level to realize the important of stakeholder engagement, knowing its process and engaging with stakeholders with well-thought processes. These training will equip them with necessary knowledge to be able to engage with stakeholders, while having a right attitude towards the engagement.
Get to know the Updated Stakeholder Analysis and Prioritization tool sharing and Preliminary workshop.
EGCO organized a workshop to review the updated process of stakeholder review and prioritization. The workshop included sharing knowledge sessions, updating the rank of stakeholder lists and endorsing data by executives, and managing directors of KEGCO. This workshop was held on June 14, 2023 via online platform with participants including executives and managing directors.
This workshop provided the top local managers the chance to review their operations and the important stakeholder engagement practices, using specified tools and benchmarking against EGCO's best practices, as well as exchanging experiences in identifying and prioritizing stakeholder groups and relevant issues around their operating units before determining the further course of actions for engagement.
Benefits of the Project
Top local managers learn about capacity building and methods of engagement
Stakeholder engagement is conducted as a systematic approach throughout the company
Implementation Approach
1-Day online training sessions on how to review and prioritize stakeholders around their operating units before determining the further course of actions for engagement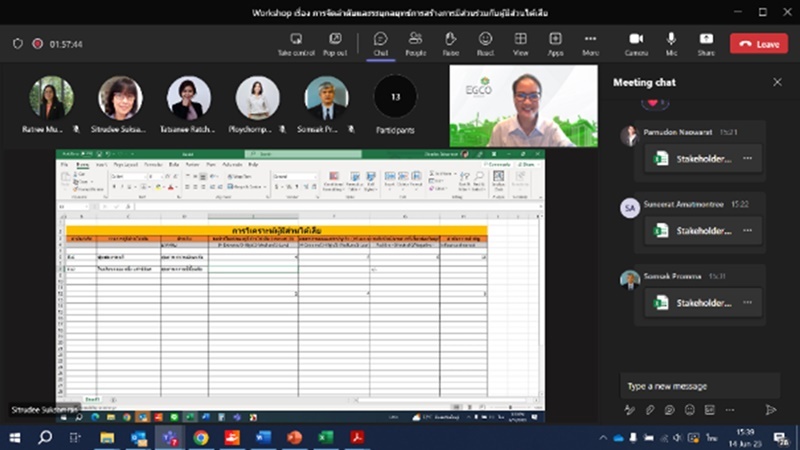 Ecosystem Workshop on Waste Management
As EGCO realizes the importance of an ecosystem, a series of workshops was organized on the topic of preservation of ecosystem through waste management on a separated occurrence. Sharing EGCO Ecosystem Project and lecture about waste sorting was held on May 24, 2023 by GEPP via online platform for top managers in different operating units, and on-site training and survey at KEGCO on June 16, 2023
This program aimed to increase the awareness towards ecosystem and encourage each plant to improve their waste management within the operation. Top local managers who participated in the workshop are also expected to be able to proceed the information to the stakeholders as well.
Benefits of the Project
Awareness toward ecosystem of top local managers have been increased.
Top local managers are able to relate the information to the stakeholders.
Implementation Approach
1-day workshop at EGCO's own specific site
1-day workshop via online platform.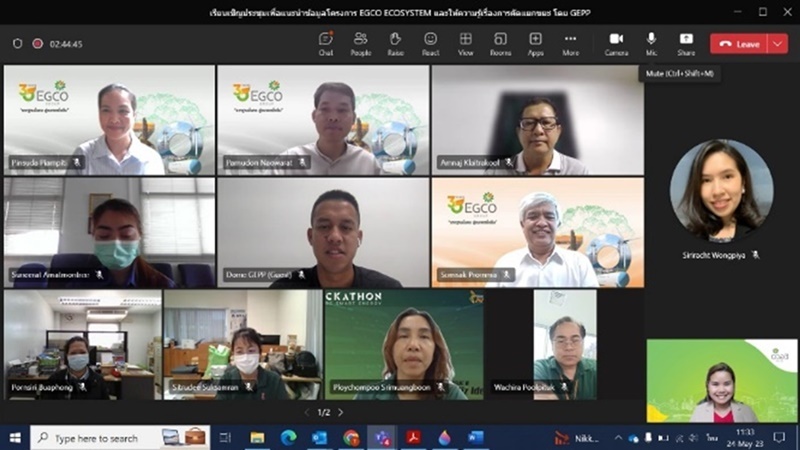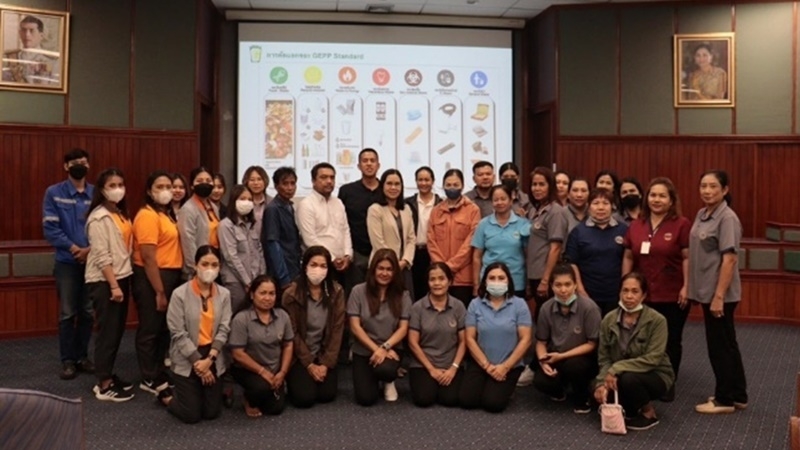 CSR on the Job sharing for Executive Meeting Committee (EMC)
As EGCO places a priority on stakeholder engagement, engagements program and its details, progress, lessons learned, and best practices that can be adapted to the future CSR. will be monthly shared to the Executive meeting committee (EMC), together local plant managers in an internal conference.
Plant managers can use this information to improve the future program from good and bad stakeholder engagement experiences, while executive will realize the important of stakeholder engagement, and be able to support the program directly to the point
Benefits of the Project
Plant managers can implement the lessons learned from previous stakeholder engagement.
Executive personnels realize the current status of the company's stakeholder engagement.
Implementation Approach
Weekly meeting session between the Executive meeting committing (EMC), plant managers, and key personnel.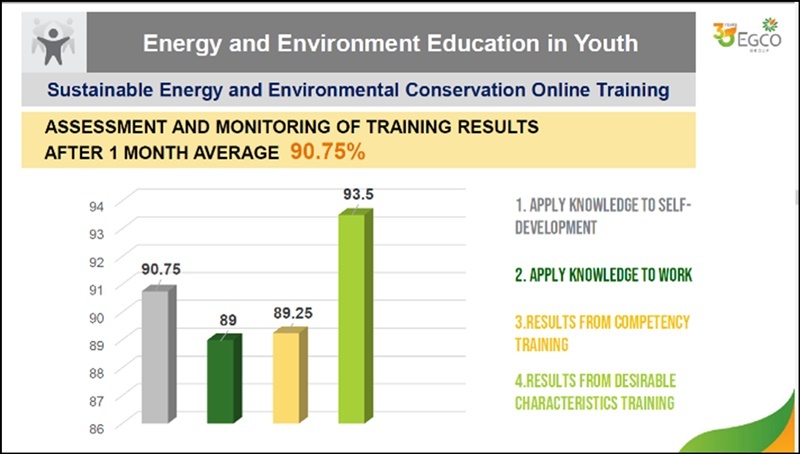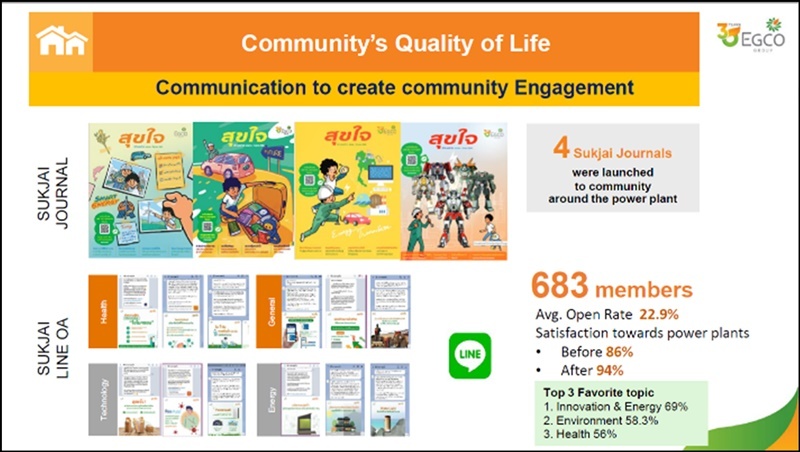 Stakeholder Engagement via Transforming new year gifts into Inspirations for Society
Due to the impact of COVID-19 on the economy in recent years, EGCO has recognized that the budget originally allocated for corporate social responsibility (CSR) to purchase New Year gifts for stakeholders would lose its significance to the recipients. To address this, EGCO has launched the "Transforming New Year Gifts into Inspirations for Society" program, where the budget allocated for these gifts is now redirected towards donations for philanthropic organizations and charities, departing from the traditional practice of giving physical gifts. As part of this initiative, EGCO personnel have the option to send e-cards to relevant stakeholders, and stakeholders themselves are encouraged to participate in online games and select their preferred charitable organizations.
EGCO Group takes full responsibility for the entire donation budget throughout the project, aligning with its commitment to transparent business practices, good governance principles, and the company's No Gift Policy. In addition, EGCO has introduced an activity that encourages the local community to support charitable causes, fostering increased engagement between operating units and the community.
Benefits of the Project
New year gift budget will contribute directly to the society
Local stakeholders are able to engage with the charity and the company via engagement activities
No Gift Policy is emphasized for both employees and local stakeholders
Implementation Approach
Organize an activity during new year for both local stakeholders and employees to participate, while budget for new year gift will be used in the activity which will be donated to the charity directly.