EGCO Group participated in the seminar "Inclusive Leadership means Better Business."
21 January 2022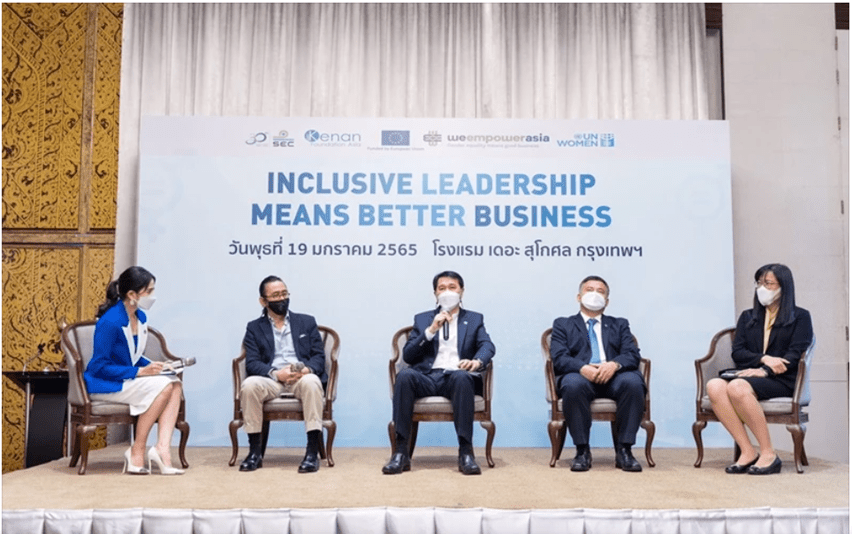 On 19th January 2022, EGCO Group participated in the seminar "Inclusive Leadership means Better Business." This seminar was organized by WeEmpowerAsia (WEA), funded by The European Union and UN Women together with the SEC and Kenan Foundation of Asia. The objective is to promote gender equality in the business sector. This event was held at The Sukosol Hotel, Bangkok, with live broadcasts via Zoom and Facebook Live channels.
The seminar was organized to raise awareness among businesses about the importance of promoting gender equality and leadership for people of all genders, including sustainability reporting covering gender dimensions. This will lead to confidence in the potential of people of all genders and the development of corporate policies in line with the gender equality concept. This is a guideline for sustainable growth of the capital market and Thai businesses.
Within the seminar, the Corporate Executives who received the UN Women 2021 Thailand WEPs Awards in various fields, including EGCO Group, Hadthip, IRPC, Bangchak and Bank of Ayudhya, have shared examples of guidelines for promoting gender diversity and equality in the organization.
EGCO Group, the winner of the "Transparency and Reporting" category by Khun Piyanon Wattanachanya, Executive Vice President, Corporate Strategy Division of Electricity Generating Public Company Limited, joined the panel discussion regarding the ways to promote the gender balance of men and women, primary data collection methods, accurate and transparent reporting of information, as well as activities and goals to promote gender equality.
The main objective of this panel is to announce its intent and present guidelines by each organization to reduce the gender gap and promote gender equality. These can be a guideline for other organizations in the Thai business sector to apply appropriately and encourage gender equality in the long run, which means a better sustainable economy.
"We believe that having a baseline [gender-related] data is key to the promotion of gender equality. Having a baseline data helps us track our progress and set targets to achieve so, such as by increasing the proportion of female employees and ensuring equal pay.